Access to remote features and services with Kia Connect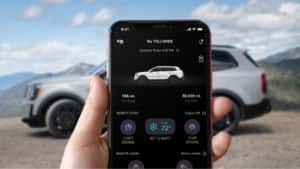 Kia Connect technology opens another level to your Kia by providing access to remote features and services that truly enhance your ownership experience like lock/unlock, climate control, charging, Find My Car, stolen vehicle recovery, and much, much more!
Most Popular Features
Connected features available through Kia Connect subscriptions:
Smartwatch App for iOS and Android
Remotely start your engine, adjust climate, and view detailed vehicle information all in the palm of your hand. When you pair your smartwatch to a mobile device with the Kia Access App, you'll be able to send remote commands from there as well.
Find My Car
Forgot where you parked your Kia? No problem. Instead of spending time wandering around the city or that vast parking lot, conveniently locate and get directions to your car on demand.
Remote Climate Control
About to head out? Heat or cool your car to the perfect temperature before you leave! Using the Kia Access app, set the temperature remotely so you won't have to endure a sweltering seat or icy interior again.
Rear Occupant Alert
Get an alert if you forget Fido in the second or third row. The seats have sensors designed to detect movement after the doors have been locked. Through the Kia Access app, you can even get an alert on your smartphone!
Remote Door Lock & Unlock
Uh oh. Did you forget to lock the car? Even if you're miles away, you won't need to worry when you can lock and unlock from your smartphone. And, if you lock your keys in the car, you can handle it in seconds.
Connected Routing
This new and powerful navigational feature provides efficiency, accuracy, and timeliness by providing better routing, higher arrival time accuracy, and real-time traffic data.