Connect your personal device to your Kia with UVO link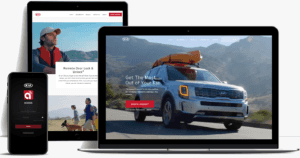 UVO link | Smarter Convenience
UVO link connects your personal device with your vehicle to meet your Kia's needs. With UVO link you can unlock better driving, ownership experiences and peace of mind.
Stay prepared and informed wherever you go! The UVO eServices app allows you to find your parking location, check you vehicle status3 and send emergency information, right from your smartphone.
What else can it do?
My Points of Interest (POI)
Save your favorite places for future navigation. Plan the stops of road trip, remember where that amazing restaurant is, and avoid the awkward "What's your address again?" call.
My Car Zone
Keep your loved ones safe by setting alert thresholds for certain drivers. If the vehicle is driven past a certain time, speed, or designated boundary, this system sends an alert to your smartphone.
Parking Minder
Where exactly did you park? While your family debates, UVO saves the day. Pull up a location tracker on your Kia eServices app to navigate toward your Kia. You can even set parking meter reminders!
911 Connect
In an emergency, we're here to help by offering peace of mind and assistance in certain situations. If an airbag deploys, UVO will attempt to automatically call 911 and send the vehicle's location to an emergency response agent.