Courtesy Kia offers a military rebate to eligible U.S. military personnel and their eligible family members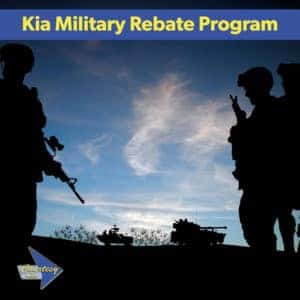 Kia Military Rebate Program
Courtesy Kia in Mesa Arizona is pleased to offer a $300 military rebate to eligible U.S. military personnel and their eligible family members. It is our way of saying "Thank You" for the extraordinary job you do!
Eligible Customers for Military Rebate l Courtesy Kia in Mesa
• Active Duty – A current active duty status in the U.S. Military (Air Force, Army, Coast Guard, Marines, • National Guard, Navy, and active Reserve)
• Inactive Reserve – U.S. Military Inactive Reserve (i.e. Ready Reserve) that is part of the Individual Ready • Reserve, Selected Reserve, or Inactive National Guard
• Military retiree – Regardless of retirement date.
• Honorably discharged veteran – U.S. Military veteran within two (2) years of honorable discharge
• Household member – Family members living with the eligible military personnel specified above
• Gold Star Family Member – Family member of a fallen military hero
• Verifiable proof of military status, proof of active service, or inactive Reserve status is required at the time of purchase or lease.
Kia Military Rebate Offer Terms l Serving Mesa, Phoenix, Gilbert, Tempe, Scottsdale, AZ
Customers eligible for the Kia America, Inc. ("KA") Military Specialty Incentive Program must be an active member of, honorably discharged from, retired from, or on disability with the United States Armed Forces or Reserves (includes those that have "national" status from another country and are serving in the United States military) or the spouse of the eligible participant. Eligible customers or his or her spouse must provide a copy of one of the following to a Kia dealer at the time of purchase: a current Earning Statement, a copy of the honorable discharge papers, a bank statement indicating a pension or disability earnings from the United States Armed Forces, or an official document indicating future pension eligibility. Military ID is not a sufficient form of proof of eligibility. If eligible customer is a spouse of participant, proof must be provided of the spousal status by providing proof of marriage (marriage certificate).Applies to new vehicles purchased or leased between 1/4/2023 – 2/28/2023. Customer is only eligible for a total of two (2) Specialty Incentives during a calendar year. This offer may be combined in addition to certain other incentives offered by KA. See dealer for details. Not all incentive programs are compatible. This incentive is a limited time offer on eligible Kia vehicles. No cash value. Additional terms and conditions apply. See your participating dealer for more details. All matters of program eligibility and qualification will be resolved by KA in its sole discretion, and KA reserves the right to change product and program specifications at any time without incurring obligations.