Trade or sell your car to Courtesy Kia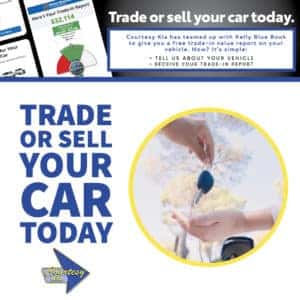 Trade or sell your car today
Courtesy Kia has teamed up with Kelly Blue Book to give you a free trade-in value report on your vehicle. How? It's simple:
Tell us about your car
• Get the Instant Cash Offer
• Schedule an appointment at Courtesy Kia for in-person verification.
Take advantage of our Kelley Blue Book® trade-in calculator, any easy-to-use tool which uses live market data to ensure that you receive a quick and accurate trade-in estimate for your vehicle.
NOW IS THE TIME TO SELL US YOUR VEHICLE!
Click here to receive your offer. Trade or sell your car today.